So, what I thought was a simple cold is probably now either a massive infection or the flu. I'm surviving though, despite the weather (it's been raining and in the 60's here, in May, in Florida! Delightful, yes, but really hard on the allergies!) and it feels like I'm finally coming out the other end now.
Helping me to recover on Monday was a wonderful visit by me good buddy

jadeblood
and her friend Danielle (whom it was so excellent to meet as I'd heard so much about her and she was as sweet and awesome as I knew she'd be!) down in Gainesville for a vaycay, whooooo hoooooo! I received the gift of many books (kick ass! Including the first four
Dark Tower
novels!) and we basically chillaxed on my couch, playing
Marvel Ultimate Alliance
(with many an innuendo had as to the male character's macho declarations because, well, we're us!) and talked everything from
Supernatural
to RP to
X-Men
to our insanely demanding plot bunnies for both fanfic and original material!
I actually lost my voice sometime in the late afternoon and it took many cough drops and a glass of orange juice to get me back to sounding like something other than a hesitant Minnie Mouse! (And I'm really, really hoping I didn't get ya sick, Jadey! I know you're on the road today so I hope when you see this, you're not dripping like a faucet and hacking up a storm!) I unleashed the power of my awesome Lois Griffin impersonation (seriously, it's almost exactly the way I used to speak when I was a kid!) nonetheless, but my Invader Zim was questionable and I just couldn't get my Doctor Orpheus voice out!
We were being big silly goobers and I had such amazing fun! *Tackles!*
And,

moetushie
! I missed your birthday, a big 'un, too, little Miss Legal You! Well, I sent ya a vgift, but I wanted to get ya something else, too. Something handmade, from the heart...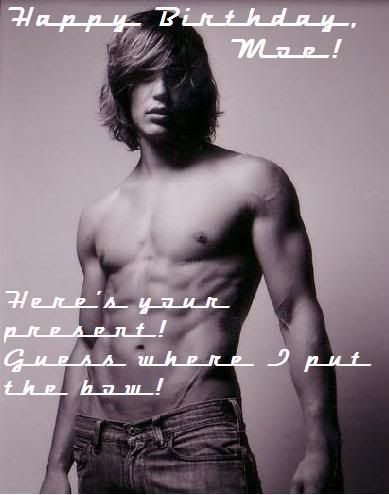 Peace, Ghani